Recently
TOOS
created a commisioned piece of art for some admirers of her work. They would like to embellish their garden terrace with a unique artwork that could stand the Dutch climate. Now one of the walls of the terrace shows a colourfull digicompo on alu-dibond made by
TOOS
.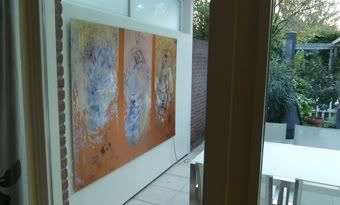 22.03.2012.
(Visit:
also my YouTube channel
)
TOOS
published a new video on her YouTube-channel. This film "
TOOS
-the movie", duration 9 minutes and without spoken text, was made because of the very special and big expo
TOOS
had in 2011 in fort Rammekens, the oldest sea-fort in Western Europe, build in 1548 in the province of Sealand (Netherlands)
The film gives an impression of the inspirations of the artist Toos van Holstein, her atelier in the medieval town of Middelburg, her art and the show in the fort. Producer of the film was Peter Havermans, a renowned cameraman in the Dutch television world. The music was composed and played by the German saxophone player Frank Düring and some of his musical big band friends.
09.02.2012.
nederlands
| english